| | |
| --- | --- |
| | Made in the U.S.A. |
E-Z TV Lift - Standard Model
DETAILED INFORMATION
The E-Z TV Lift - Standard Model will safely and efficiently install or remove a flat panel TV from the wall. It can only be used without a fireplace and raised hearth present.

All components are 100% modular with no tools needed for assembly and use.

The winch is state of the art with an automatic brake. The brake prevents the TV support cradle from lowering by itself when the handle is accidently released. This feature is especially useful when lowering a TV half way down for repair. It can be operated with the winch handle or a cordless drill.

The main features and specifications of the lift are:

Anodized aluminum components
Vinyl coated top TV support bar
Carpeted TV support cradle
225 lb. lifting capacity
Maximum height from floor to base of TV 75"
Three 4" polyurethane swivel casters - all locking
2 piece post assembly - each one 39" long
Winch automatically locks when handle is released
Weight of all components 50 lbs.
No extras to purchase
Free Shipping to the Continental U.S.A. and Canada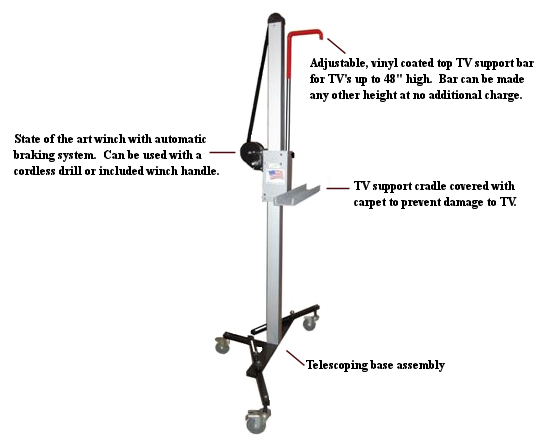 E-Z TV Lift - Standard Model



One Year Warranty On All Tools


E-Z Spread N' Lift Industries
1815 Buck Road
Feasterville, PA 19053
Telephone: 215-322-2099
Fax: 215-322-1066
E-mail: sales@e-zspreadnlift.com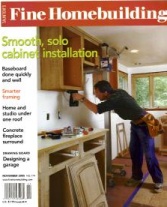 The E-Z Lift Cabinet Jack
was featured in the Nov.'05
issue of Fine Home
Building Magazine.


Home | E-Z Cabinet Lift | E-Z TV Lift | E-Z Hydraulic Spreader | E-Z Frame Spreader
Testimonials - E-Z Lift | Testimonials - TV Lift | Testimonials - Photo Gallery | Contact Form | Prices and Ordering


Content of these Web Pages is Copyright ©2012 E-Z Spread N' Lift Industries
Written Permission is required prior to reproduction in whole or any part. All rights reserved.

Do you like the look and feel of this Web Site?
No-Nonsense Web Design is available at surprisingly reasonable rates from...
Art Glick dba Almost Heaven Electronics