| | |
| --- | --- |
| | Made in the U.S.A. |
Comments from satisfied users of the E-Z Lift Plasma TV Lift tool....

Find out what other people are saying about our tool!
---
Images of a recent installation - Written testimonial to follow shortly




80" TV in courtroom

Using your lift to move large
flat panel TV around job site




TV being installed in
Crystal Falls, MI Courthouse



Lift with 80" TV
installed in Courthouse



TV being installed in Kentucky
Transportation Main Office
---
Leo,

Thanks for a great tool. It's everything you said it is and more. I'm sorry I waited so long to order it!


Justin Shipe, DREAMAV
Landisberg, PA
---
Leo,

First there was the invention of the remote control, and now there is the E-Z Lift Flat Panel TV Lift. Like American Express, I do not leave home without it!!! I am an Audio/Video tech for Modern System Concepts in Houston, TX. When my coworker and I almost dropped a 64" Plasma TV, while trying to mount it above a fireplace, we knew something had to change. I searched the Internet for something to solve my problem and I came upon this product - the only one of its kind. I thought long and hard and decided to make the purchase. This lift should be named "The Buddy Lift" because it will take the place of your helper. I can easily mount a 52" plasma by myself....sorry.... and my "Buddy Lift". Because I am also a project manager I also have to look at the "safety" side of things. Ever tried lifting a plasma above your head onto a wall? How about climbing a ladder and lifting the plasma onto the wall? Don't get me wrong, it can be done, but how safe was it done? Going back to how my coworker and I almost dropped that TV, even with two ladders set up, with him on one and me on the other. As we each climbed the ladders he pushed a little too much, and I almost lost my balance on my ladder. The safer way would have been to use the EZ-Lift. No straining of your back and no awkward positions. For you owners, using this tool will eliminate Workers Compensation claims. Just lift the TV up to the bracket, connect your wires and tilt the TV back onto the bracket. One last note, my customers thought I looked even more professional using this tool. It is just a smart way of doing things and your customers would agree.

Jody Popkowski
Modern System Concepts
Katy, TX

---
Leo,

The lift arrived yesterday as you promised, and we used it today. We do not do cabinets, but instead are Audio/Video custom Installers. As we have gotten older and plasmas have gotten larger and HEAVIER, we needed HELP. We rented one of these lifts to hang a couple of 60 inch plasmas and decided WE WANT ONE ! It worked great today and we think it will extend our time staying in this type of work.
Thanks!

Gene and Peggy
California
---
Hi Leo:

I know it's been a while. You tool works great! Here are some pics of your E-Z Lift Cabinet Jack in action lifting computer servers into place that weigh about 100 lbs. each.
Thanks,

James Lee
California Department of Water Resources
---




E-Z Spread N' Lift Industries
1815 Buck Road
Feasterville, PA 19053
Telephone: 215-322-2099
Fax: 215-322-1066
E-mail: sales@e-zspreadnlift.com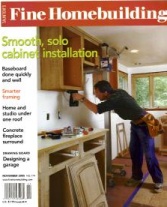 The E-Z Lift was
featured in the Nov.'05
issue of Fine Home
Building Magazine.


Home | E-Z Lift | E-Z TV Lift | E-Z Tool | Testimonials - E-Z Lift
Testimonials - TV Lift | Testimonials - Photo Gallery | Contact Form | Prices and Ordering


Content of these Web Pages is Copyright ©2012 E-Z Spread N' Lift Industries
Written Permission is required prior to reproduction in whole or any part. All rights reserved.

Do you like the look and feel of this Web Site?
No-Nonsense Web Design is available at surprisingly reasonable rates from...
Art Glick dba Almost Heaven Electronics